Palm's wonderful WebOS operating system that powers the Pre and Pixi was recently updated to version 1.3.5, bringing the joys of SDL, OpenGL ES and hardware graphics acceleration.
I now have Evas running on my Palm Pre. Below is a demo video. For web OS developers who have been looking for an easy way to develop apps with great graphics effects, Evas and the rest of the Enlightenment Foundation Libraries are a great option. You can download the Expedite demo used in the video here and try it out on your own Palm Pre.
I've decided to spin off a new sports-oriented blog, FourPointers. Go ahead, subscribe.
Yes, it's a miracle. The site is back. Everything. The day runneth over with rejoicing.
Read all about it over at the Xcomputerman.NET blog.
So Freenode just collapsed about 10 minutes ago, knocked everybody off and the servers are unreachable. This shortly after the following Global notice that left everyone scratching their heads:
(22:44:59) -ratbert(i=ratbert@freenode/staff/pdpc.levin)- [Global notice] I am a fat ***hole, who loves abuse, die
(22:45:11) -ratbert(i=ratbert@freenode/staff/pdpc.levin)- DCC SEND YOUAREALLJUDENLOL
Not sure whether the servers were hacked or it's a drunk op out of control. Developing…
Update @11:16pm
Network is back up. That was quick. I wonder what happened…so far it's looking like just an out-of-control op.
Update:
Freenode was hacked.

(23:24:35) -th6thdh6hg(n=levin@tor/session/external/x-c889f3d38641b2fb)-
          [Global Notice] Hi all. We've obviously had a compromise. We believe
          it may be limited, but we're looking at it now, and obviously we may
          be wrong. Apologies for the difficulties.

Cindy 'Mama Moonbat' Sheehan locks lips with Venezuelan dictator Hugo Chavez (sorry for ruining your appetite, guys).
A caption competition waiting to happen, obviously ("Moonbat Mountain", "Not enough beer in the world…"), but none could possibly capture the moment with such creativity as this guy.
Discovered a link to Gmail in Yahoo's headline list today while reading their news pages. Either someone at Yahoo made a copy-paste error or someone at Google managed to sneak it into Yahoo's headline feeds …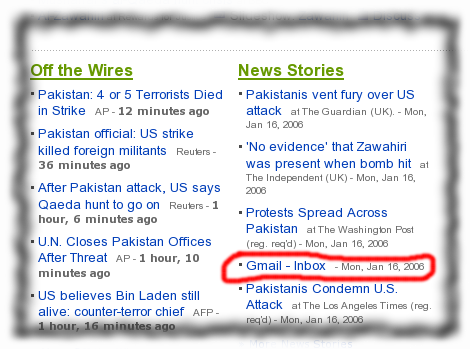 The full size version is here, in case it gets taken down.
Xcomputerman.com will ring in the new year on a brand spankin' new server. And yeah, I finally found a use for that .net domain name!
Slowly but surely, I'm starting to catch a whiff of this "Christmas spirit" thing.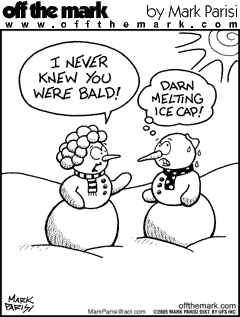 I'm staring unaware cause I'm in the zone
It moves in like a fog on a seaside road
Paralyzed by the signs and the deafening tone
I'm on a lock like a jock with a broken bone
I can see the real game and I want to get in it
I can read your headline and I am dying to spin it
Man down in the clutches of his own desire
I got to find the kind of speed that will put out a fire
… Well actually I'm not the poetic type. That's why I just shamelessly copied lyrics from TobyMac. But the song kinda fits the mood. Between my semester project, final programming assignment and intense pressure at work, sometimes I just want to get away from it all. But I know I can do this, and I'll get it done. Two more weeks.
(This gratuitous post brought to you by peer pressure from the one and only Faith.)
Copyright © Ibukun Olumuyiwa 2007.