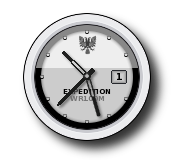 Tokyo has employed his mad themer skills again and created a beautiful-looking clock entirely out of Edje and Embryo. I'm told someone already did this last night, but for the rest of you who don't feel like having to put together a C program to wrap around this, I have a little tarball up here for you. Note that the .eet file will have to be in the current directory for the app to work…you can alter this by editing the source before compiling.
Download here.
9 Responses to "Edje Clock"
Leave a Reply
You must be logged in to post a comment.